Authorized dealers for KOEL generators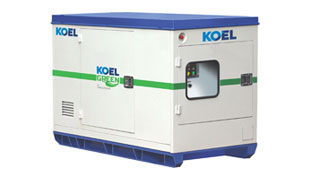 KOEL Generators is designed for unlimited hours, as compared to 'Emergency stand by' designed for 200 hours in a year. Prime rated Gensets also permit 10% temporary overloading. Users need to carefully select the Genset rang to meet their necessity. KOEL offers Prime power as a standard offer. Contact KOEL for stand by ratings. We have carved a niche amongst the most trusted names in this business, engaged in offering comprehensive range of Koel Generator.
We are an authorized dealer of kirloskar bliss gen sets. These gen sets are available in different models as per the requirement and specifications of the customers. Our range of kirloskar gen sets are ready to use and are standardized. They are available at competitive prices and are delivered in the given time span. Some of the features of our kirloskar bliss gen sets are: superlative class durable construction low noise level energy competent easy serviceability reasonable prices.
With the support of our business associates, we have been capable of meeting the specific requirements of our clients. Our associates thoroughly test the range on abundant parameters in order to carry perfect products. Moreover, our dexterous specialists perform their task with dedication for the attainment of organization's goal in order to achieve determined client satisfaction. Owing to our ethical business practices and client friendly approach, we have increased a strong foothold across the Indian Sub-Continent. We purchase & sale all types of Used DG Sets. We are looking queries from All over the world.
Kirloskar Generators offered by us are well admired for their brilliant functionality and resilient design. Kirloskar generators are with highly efficient alternator and turbocharged diesel engine; these generators are procured from renowned vendors in wide specifications.
We are an authorized dealer of KOEL Generators which are intended as per the industrial standards and are obtainable in customized range as well. These are complete to use generator sets and comes with a guarantee of 24 months from the date of the DG set quantity or 5000 normal operating hours. We are promised in providing an extensive range of products to our clients Koel Generators. We provide finest possible advice and assessment when it comes to selecting brand and expertise for power generators. Whether generator is essential to meet backup power needs or one accomplished of operating 24 hours a day, we deliver a range of dependable generators to meet your necessities. Koel Green Gensets offer a unique grouping of CPCB norm compliance and improved fuel efficiency.
Across the range, KOEL Gensets offer considerable savings in fuel cost. Owing to the extensive experience of this domain, we are instrumental in offering Koel Generator to our customers. With our team of specialists, we are engaged in delivering Koel Generating Sets to our respected clients. These products are extensively utilized in the market. Our efforts lie in offering to our customers with best quality products and services to suit their precise needs in a customized way. We take enormous preference in connecting ourselves with clients of high standing throughout the commercial and desire to create more such relations through shared belief and support.
About Generator Dealers
M/s. K J ENTERPRISES has its registered Head Office at No: 30/1, Ranga Bhashyam St, Saidapet(W), Chennai-600 015.  and Branch Office at 8/17, Manali New Town, Chennai- 600 103 . We have a network which is strategically spread over Tamil Nadu ensuring that we reach you at every location in the shortest possible time. We work very closely with our dealers to assure the quality of the products and service we provide.
The Kirloskar Group is an Indian conglomerate headquartered in Pune, Maharashtra, India. The company exports to over 70 countries over most of Africa, Southeast Asia and Europe. The flagship & holding company, Kirloskar Brothers Ltd established in 1888, is India's largest maker of pumps and valves and also undertakes construction projects through its subsidiary Kirloskar Construction And Engineers Ltd.
Our Vision & Mission
M/s. K J ENTERPRISES is dedicated for creating high-performing Diesel Generating Sets for Our customers as an inspired team. Empowered by a culture of trust and caring. For over 20 Years, we have been steady and stable- like the products we supply. Our mission is to Continuously improve the quality of our services through sales and supply of generating sets And equipments for meeting the overall requipments of our valued customers. At M/s. K. J. ENTERPRISES we deliver not only goods, but also goodwill and care. As a result, M/s. K. J. ENTERPRISES is not just another entity in the Genset market, but a name that is synonymous With Gensets for many satisfied customers.
Authorized dealers for KOEL generators,Authorized dealers for KOEL generators,Authorized dealers for KOEL generators,Authorized dealers for KOEL generators,Authorized dealers for KOEL generators,Authorized dealers for KOEL generators,Authorized dealers for KOEL generators,Authorized dealers for KOEL generators,Authorized dealers for KOEL generators,Authorized dealers for KOEL generators,Authorized dealers for KOEL generators,Authorized dealers for KOEL generators,Authorized dealers for KOEL generators,Authorized dealers for KOEL generators,Authorized dealers for KOEL generators,Authorized dealers for KOEL generators,Authorized dealers for KOEL generators,Authorized dealers for KOEL generators